The theme world of antique furniture and clocks is huge. I will probably always learn something new and still never know everything. And that is why I am so glad that there are experts and scholars who share their great expertise in their respective special fields with me and with all of us... in books!
Researching with reference books
I use books for all my research. My collection of literature on the subject of 18th and 19th century furniture and clocks comprises about 200 reference books.
During my traineeship at the auction house, dealing with specialist literature was part of my daily tasks - and it is still of great use to me today. Back then, I learned to do targeted research and memorised which clock and which piece of furniture was best to look for in which book.
Looking for literature comparisons, which you will find for most of the objects in my range, is still a lot of fun for me. And even though today I know exactly where to look, the search often takes much longer than necessary, because once I have opened a book, I don't close it again so quickly...
A big thank you to the authors
The scholarly works of Wolfgang L. Eller, Rudolf Pressler, Hans Ottomeyer, Renate Möller, Georg Himmelheber, Gloria Ehret or Wolfgang Schwarze are essential for preserving the knowledge of the furniture and cabinetmaking art of past centuries for future generations.
And there are also veritable bibles on the subject of antique clocks, written by Jürgen Abeler, Elke Niehüser, Peter Heuer and Klaus Maurice.
All the books listed below (unfortunately the list is not yet complete) I can recommend with a clear conscience:
Reference books antique furniture
Annigje Hofstede - Dutch furniture 1700-1830
Badisches Landesmuseum Karlsruhe - Furniture for the Court of Princes
Christian Schatt - Baroque and Rococo Furniture
Dietrich Fabian - Abraham and David Roentgen
Esla Colsman - Gothic to Art Nouveau Furniture
Gisela Haase - Dresden Furniture of the 18th Century
Gloria Ehret - German Furniture of the 18th Century
John Morley - Furniture of Europe
Pressler / Straub - Biedermeier Furniture
Rainer Haaff - Biedermeier Furniture
Rainer Haaff - Biedermeier Worlds
Rainer Haaff - Oak furniture
Rainer Haaff - Wilhelminian and Art Nouveau Furniture
Rainer Haaff - Louis-Philippe Furniture
Rainer Haaff - Splendid period furniture
Rainer Haaff - Softwood furniture
Renate Möller - Empire and Biedermeier furniture
Renate Möller - Furniture from the Baroque to the Present Day
Sotheby's great guide to antiques - Furniture
Stefan Baumeier - Fine Furniture from Westphalia
Wolfgang L. Eller - Biedermeier Furniture
Wolfgang L. Eller - Classicism, Louis XVI and Empire Furniture
Wolfgang L. Eller - Writing Furniture 1700-1850
Wolfgang Schwarze - Antique German Furniture 1700-1840
The short descriptions of the books listed are mostly taken from the tables of contents or blurb texts and are the intellectual property of the respective authors and publishers.
Birch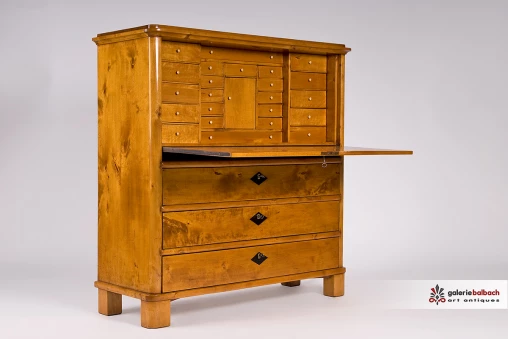 Birch wood was particularly popular in the Biedermeier period. In northern Germany, birch wood was used as veneer from 1800 onwards, and in Scandinavia it was also used as solid wood.
Read more
Pilaster
A pilaster is a wall pillar used instead of a voluminous column, which can be found on the pilasters of antique cupboards and chests of drawers.
Read more