Botan. Name: Prunus avium; P. ceraus; P. nigricans; Cerasus avium; C. dulcis; C. nigra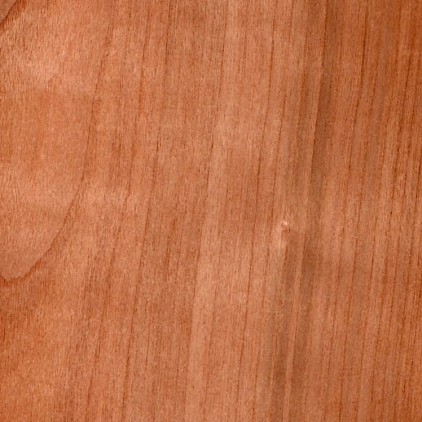 Along with walnut, the wood of the cherry tree is probably one of the most popular domestic precious woods. The reasons for this are simple: the wood has a beautiful, strong colour, very good workability and it has always grown in the region. It is one of the hardwoods, but is not as heavy or as coarse-pored as oak, for example. The fine-pored surface is well suited for shellac polishes.
Antique furniture made of cherry
Cherry wood is indispensable, especially for antiques from the early Classicist and Biedermeier eras. Cherry was very popular both as solid wood and cut into veneer. During the Biedermeier period, entire interiors were made of cherry wood.
While in Germany and the Danube Monarchy Cherry was primarily used as a veneer, in France, especially in the provinces, tables, cupboards and chests of drawers were made from solid Cherry wood.
Very popular in the past and today
The texture of the cherry tree is plain and straight, ingrown knots or unevenly grown trunks enliven the wood. The reddish-brown colour of the cherry tree darkens over the years and develops a beautiful patina.
Cherry is still a popular wood not only for furniture making but also for arts and crafts in general. It is also used to make musical instruments.
The cherry wood used in the period of origin of our antique furniture came from the respective region of origin of the furniture.